Special Beers
Besides the draft beers you can also find more than 50 special beers from the bottle in the Vestingbar. Below you can find our regular assortment, but regularly we also have some temporary special beers. You can find them on the chalkboard in the bar.
At the bar you can also buy a special beers booklet for €3,50. This will give you a discount of €0,30 on each beer and once you have had each beer on it you will get the 'Special Beer Diploma'.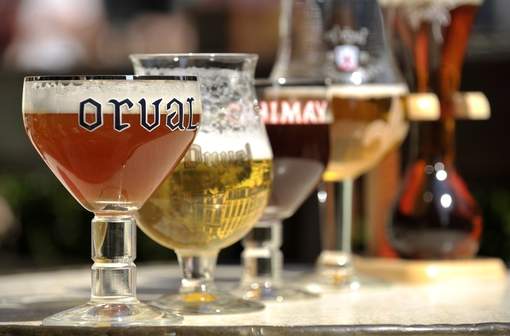 Assortment
Barbãr (7,0%) – Golden beer with a malt taste and subtle flavour of honey combined with notes of flowers, spices and citrus.
Bax Koudvuur (6,3%,) – A intense and tempting Porter with smokey tones from smoked and roasted malts.
Brewdog Punk IPA (5,6%) – An India Pale Ale with a slightly sweet taste and the smell of tropical fruits and a hint of caramel with a bitter aftertaste because of its high hop content.
Brewdog Vagabond (4,5%) – A glutenfree Pale Ale with aromos of fruit, hop and citrus.
Brugse Zot (6,0%) – Golden blond beer with a fruity and spicy aroma with a hint of citrus.
Bush Amber (12,0%) – Heavy amber beer with a powerful bittersweet taste with hints of caramel, dark fruits and spices.
Chimay Blauw (9,0%) – This strong Belgian Trappist beer has a fragrance of fresh yeast with a light, flowery rosy touch.
Chimay Rood (7,0%) – Characteristic double with a soft fruity taste.
Crabbies Ginger Beer (4,0%) – A fresh ginger beer with a rich scent of ginger, citrus and exotic spices.
De Koninck (5,2%) – A very comely amber top-fermented beer with a smooth head in the beginning and a hoppy aftertaste
Delirium Tremens (8,5%) – Cloudy golden triple with aroma of citrus. Has a sweet, creamy and bitter, slightly spicy aftertaste.
Desperados (5,9%) – Delicious sweet beer that combines the sweet taste of tequila with the bitterness of beer.
Deugniet (7,3%) – This triple with a balanced combination of green apple and fine hops has little bitterness which makes it a smooth beer with a full character.
Duvel (8,5%) – Blond top-fermented beer with re-fermentation in the bottle with a subtle bitterness and pleasant sweet taste of alcohol.
Erdinger Alkoholfrei (0,5%) – Fresh low-alcohol white beer with hints of banana and clove.
Franziskaner (5,0%) – Cloudy golden weizen has a fresh taste with fruity accents and a slight bitter in the aftertaste.
Gordon Finest Scotch (8,0%) – Dark beer which combines bitter hops with a sweet and typical roasted malt flavor that gives the beer its warm character.
Grolsch Radler (2,0%) – Fresh radler made of Grolsch Premium Pilsner and lemon and orange juice.
Grolsch Radler 0.0% (0,0%) – Fresh radler made of non-alcoholic pilsner and lemon and orange juice.
Grolsch 0.0% (0,0%) – The alcoholfree brother of the Grolsch Pilsener.
Gulden Draak (10,5%) – Triple beer with aromas of coffee and roasted malt which results in a surprisingly rich taste of chocolate and caramel.
Gulpener Korenwolf (5,0%) – Four grains white beer with tones of young, whit blossom together with coriander and orange peel gives the beer a fresh, sweet and sour taste.
Hertog Jan Grand Prestige ( 10,0%) – Brewed with four different malts this barley wine has a mature and full flavor where the sweetness and bitterness can be easily distinguished.
Hopus (8,6%) – Golden blond beer with citrus and fruity hints, full of flavor in its bitterness and interesting to drink with its own sediment.
Jopen Extra Stout (5,5%) – Typical Dutch stout, also called espresso under the beers because of its bitter roasted taste.
Jopen Mooie Nel (6,5%) – India Pale Ale with an amazing balance of hops and malts.
Kasteel Cuvée du Chateau (11,0%) – Dark and rich beer with complex aromas of roasted malt, coffee and ripe fruit.
Kasteel Donker (11,0%) – Chocolate brown beer with aroma of malts and fruits, which gives the beer its sweet taste.
Kasteel Rouge (8,0%) – Blend of Kasteel Donker and a sweet cherry liquor which gives it a  sweet and fruity cherry flavor.
La Chouffe (8,0%) – Unfiltered blond beer spiced with coriander and a slight hoppy taste.
La Trappe Isid'or (7,5%) – Elegant amber Trappist with a perfect balance between simplicity and complexity.
La Trappe Quadrupel (10,0%) – Warm and intens Trappist which tastes malty sweet en slightly roasted. Has a pleasant bitterness and a slightly sweet aftertaste.
Leffe Blond (6,6%) – Blond abbey beer with a sweet, fruity taste where a hint of bitterness comes trough with a spicy aftertaste of orange.
Leffe Bruin (6,5%) – Brown abbey beer with aromas of roasted malts and a light pleasant bitterness.
Liefmans Fruitesse (4,2%) – Unique fresh beer made with natural fruit juices and has a pleasant refreshing sweet taste.
Orval (6,2%) – Nice amber Trappist beer with an intense bitterness and rich hoppy taste.
Pauwel Kwak (8,1%) – Top fermented  amber beer with a soft malt aroma and fruity aftertaste.
Rochefort 10 (11,3%) –  Dark red Trappist with delicious fruity taste and warm aftertaste.
Rodenbach Grand Cru (6,0%) – Flemmish red with a fresh sour taste, made with 1/3 young beer and 2/3 matured beer.
Saison Dupont (6,5%) –  Textbook example of a saison. Copper blond with fine hop aromas and a characteristic dry bitterness.
St. Bernardus Abt. 12 (10,5%) –  Dark top fermented abbey beer with a tender full-bodied flavor and fruity aroma.
Texels Skuumkoppe (6,0%) – Dark white beer with a fruity taste and hints of almond and caramel.
Tripel Karmeliet (8,4%) – Triple where besides barley also wheat and oats are processed. Has a very spicy and fruity character which starts sweet, has a pronounced orange taste and ends with a mild bitterness.
Troubadour Magma (9.0%) – Orange-copper coloured beer which can be described as a crossing between an India Pale Ale and a tripel.
Westmalle Dubbel (7,0%) – Red-brown Trappist beer with a rich fruity and spicy flavor.
Westmalle Tripel (9,5%) – Clear golden Trappist beer with fruit flavors and tastes soft and creamy.